Time series of atmospheric water vapor and total zenith delay, over Central and South America, from a homogeneous GNSS reprocessing (MAGGIA ZTD & IWV Solution 1)
Supplementary products to the article: Bianchi, C. et al. (2016): Multi-year GNSS monitoring of atmospheric IWV over Central and South America for climate studies. Annales Geophysicae, 34(7), 623-639.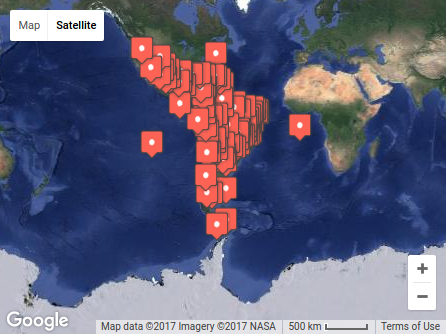 An article descibing in detail the products is available at
http://dx.doi.org/10.5194/angeo-34-623-2016
(open-access, in English). The product can be retrieved from
http://dx.doi.org/10.1594/PANGAEA.858234,
employing a convenient on-line GIS interface. Alternatively, they can also be retrieved from Repositorio MAGGIA at
ftp://triacle.fcaglp.unlp.edu.ar/MAGGIA/PRODUCTS/ZTD+IWV_S1/.